About: Millie (
https://www.petfinder.com/cat/millie-59 ... ect-ca449/
)
Manx mix in Davis, CA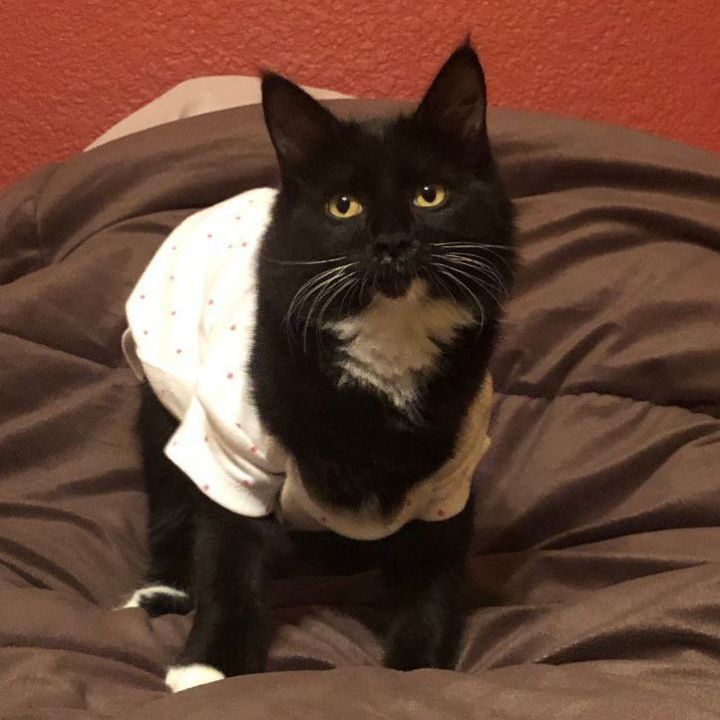 CHARACTERISTICS
Friendly, Playful, Gentle, Affectionate, Curious, Athletic, Funny
COAT LENGTH
Long
HEALTH
Vaccinations up to date, spayed / neutered, special needs.
Meet Millie!
Millie is a beautiful and soft female tuxedo Manx. Millie is full of confidence and likes to explore and loves toys. She enjoys cuddling and will start purring immediately when you pick her up. Whenever you are around, she will greet you with lots of purrs. She loves to sit on laps and get lots of cuddles. Millie does have some developmental issues and some issues with incontinence so she will need to wear a diaper and be on medications and a strict diet for the rest of her life. She has been seen by veterinarians at the UC Davis Veterinary Hospital, and her condition is believed to be largely congenital and related to her being a Manx cat. Despite her issues, Millie remains a happy-go-lucky kitten. Her outgoing and affectionate personality is sure to have everyone falling in love with her.
About: Ducky (
https://www.petfinder.com/cat/ducky-593 ... ect-ca449/
)
Manx mix in Davis, CA
CHARACTERISTICS
Affectionate, Friendly, Loyal, Smart, Couch potato
COAT LENGTH
Medium
HEALTH
Vaccinations up to date, spayed / neutered, special needs.
GOOD IN A HOME WITH
Other cats.
Meet Ducky!
Ducky is an outgoing male gray Manx. He enjoys being around all people and playing with his siblings. He is also very playful and will most likely enjoy being in a house with a lot of attention given to him. Ducky LOVES to cuddle and will become extremely attached to you and want to be wherever you are. He loves to sleep at night with his owner. He can also be very energetic when awake and loves to run around and play with lots of toys.
Ducky was born with Manx syndrome, and his hind legs did not properly develop, leaving him moderately paralyzed. However, he has no problem getting himself around and can even get upstairs and onto the couch all by himself. He does need to wear a diaper that will need to be changed a few times a day. He would also do better in a carpeted home because it is easier for him to get around and puts less pressure on his back legs. Ducky is a sweet and affectionate little boy who will enjoy being the home of anyone who adopts him.
If you're interested in adopting any of our kittens or cats please fill out the adoption application and please note which kitten you're interested in meeting:
https://docs.google.com/forms/d/e/1FAIp ... Q/viewform
Please allow at least 48-72 hours after submitting an application to reach out regarding the adoption process - thank you!